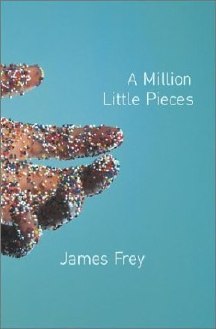 So about a week and a half ago I finished "A Million Little Pieces" by James Frey, the brutally honest, beautifully written non-fiction book that turns out now to be not all that honest or non-fictional. As far as I can tell from the internet, TV and radio a lot of the legal problems that he had were hyped up and I'm sure more aspects of it will turn out to be demonstrably false.
It seems he made a faustian deal with himself and his publisher which caught up with him this week and may eventually fuck him. Apparently, Frey had the door slammed in his face 17 times by publishers before his book was accepted (perhaps after a rewrite or two) and was released as a work of non-fiction, against his initial wishes. The book contains no forward, no preface, no disclaimer about artistic license. It just begins with him waking up on a plane with no wallet, four missing teeth and no recollection of what happened or where the plane is heading. That is some gripping shit I have to say and actually true to boot. I took everything he said in the book as the truth, he went on Oprah several times and to many, many book signings and events and said that it was an honest, accurate portrayal of what happened. Even the part about having a double root-canal with no anesthesia, local or otherwise.
It looks like Big Jim kinda fibbed about his legal problems, former arrests and god know what else. The fact of the matter is that I really liked his book, liked the message and I think he's a great freaking writer. The problem is, his whole book is predicated on honesty, total blaring honesty and I took him at his word. If we were friends, I'd clock him one and we'd be cool. As it is, I'm just a reader and the furthest I'll go is to not plunk down $23.99 for his other book.
Laura took it with a grain of salt, much like you would watch an episode of Law and Order based on an actual event. We sparred for a bit over the book and in the end, she was a hell of a lot righter than I was.